Covid-19 Precautions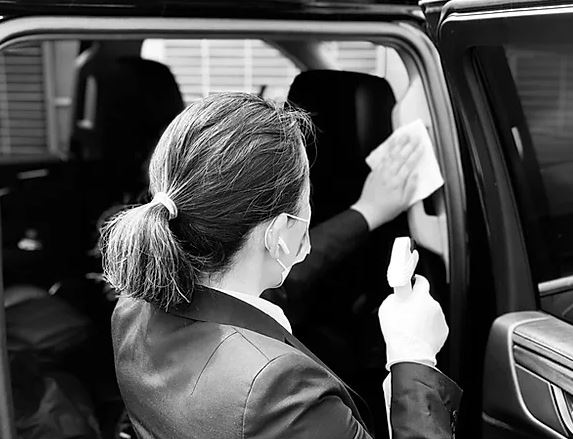 Detailers and Chauffeurs give full attention to every vehicle, using a 99.9% virus disinfectant cleaner and follow established protocols to make sure every crucial point of contact is properly disinfected. However, as our vehicles do have different groups of passengers using our services throughout the day, we advise clients to treat the vehicles as public spaces and to take all the precautions they would normally take.
Ongoing Cleaning and Disinfecting
Our vehicle cleaning standards have always been well above industry standards, and we are raising these standards even further during this time:
Before and after all trips, our chauffeurs use a 99.9% virus disinfectant cleaner on all vehicles
Special attention is taken to disinfect commonly used surfaces of the vehicle, like doorknobs, pulls and handles, seatbelts, as well as all other passenger touch points.
Health & Safety Protocols
We have instructed all employees and drivers to seek medical attention immediately if they feel unwell, and we do not allow sick employees and drivers to report for work under any circumstances.
Chauffeurs and all passengers are required to wear a face mask on all trips.
Every chauffeur washes their hands using hand sanitizer immediately before picking up passengers and after dropping them off at their destination.
Chauffeurs do not initiate handshakes and avoid all personal contact with passengers, or any other person involved in the trip, maintaining precautionary social distancing measures.
Chauffeurs only handle luggage after obtaining consent from the lead passenger.
Printed reading materials, candies, and bottled water are removed from the vehicles, unless requested by the client. If this is the case, then these items are also thoroughly sanitized.
Chauffeurs increase ventilation by opening windows, replacing air filters regularly, keeping fans "on" and re-circulation "off" to ensure fresh air flow.